Attending The Nutcracker Ballet is a huge Christmas tradition for many families. My dad and I always went together when I was young and then Andrew and I made it a tradition for ourselves when we got married. We also make a point of playing the entire score every year when we are baking and decorating Christmas cookies. It was Andrew's idea to create a Nutcracker Ballet Bracelet and it has become one of our most popular items!
Thank you! - "Today I received the Nutcracker bracelet that I had ordered for my granddaughter... It is AMAZING... The packaging is a treasure within itself. I am so happy with my purchase and know that my granddaughter will treasure it for years. Not only do you sell amazing jewelry, but you certainly make "hearts smile"!" - Lorraine

Clara and Fritz peek in the door as their parents decorate the Christmas tree. A pink bead is Clara, a light blue bead is her brother Fritz. A Christmas tree bead is the majestic fir.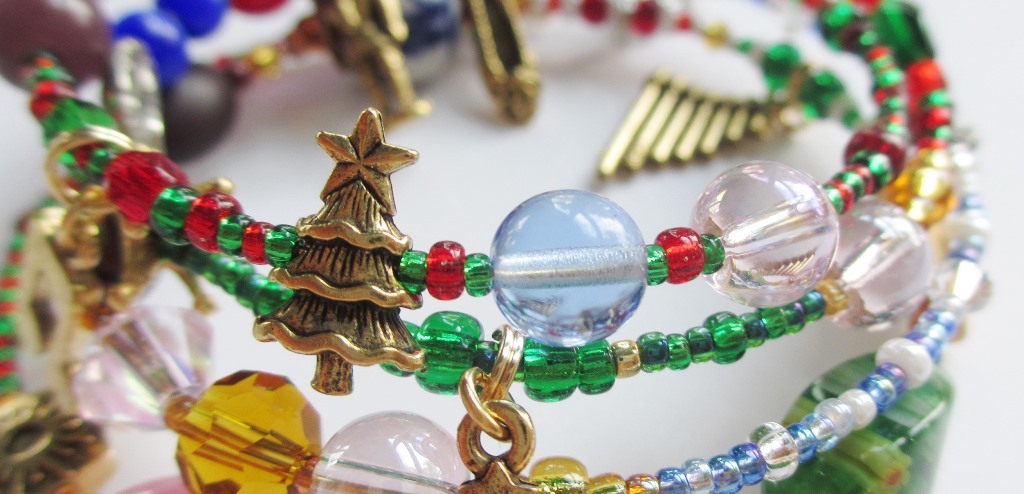 The grownups dance. The thrilling march that I personally know as the "Walnut Commercial Song" is represented by a music note charm.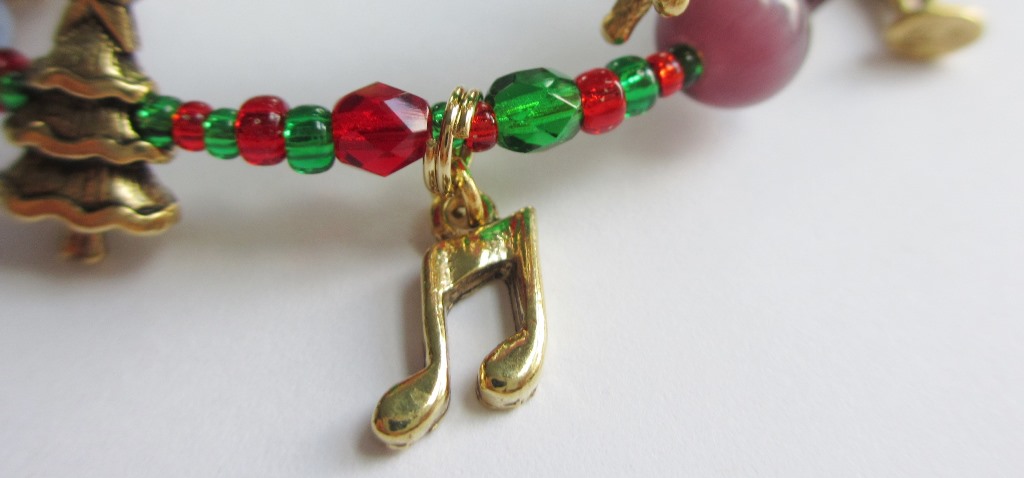 Dr. Drosselmeyer entertains everyone with life size clockwork dolls. A purple cat's eye bead is Drosselmeyer, as he seems to be endowed with a vision beyond the others. Beads represent the dolls: harlequin (diamond shape), ballerina (flower) and soldier (blue round).
A red bead and a Nutcracker charm symbolize the Nutcracker; a heart bead is Clara's love.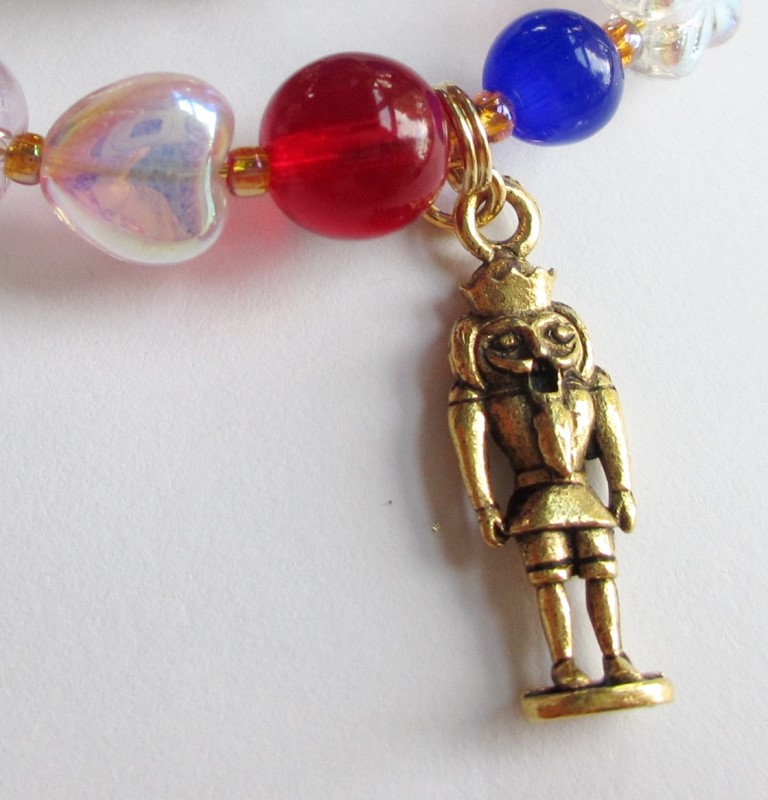 Fritz breaks the Nutcracker. A red crackle bead is the broken Nutcracker. A tear drop is Clara's sadness.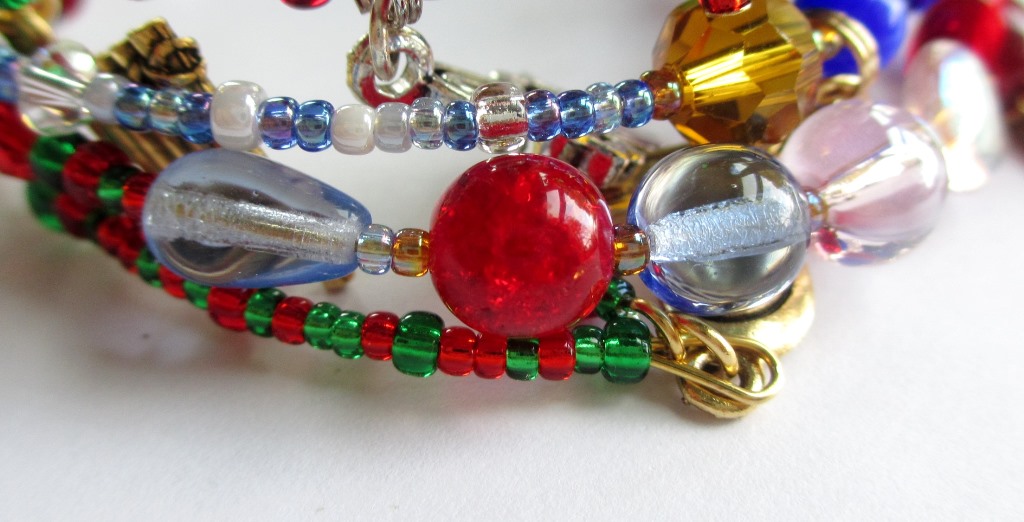 A green twist bead symbolizes the graceful final dance of the party.

Clara checks on the injured Nutcracker. At midnight the tree and entire room magically grow to enormity. A larger Christmas Tree Charm indicates the now huge tree.
Wonderful gift! - "Two of our granddaughters were in a production of the Nutcracker this year, one as Clara. We bought this as a gift for our daughter to represent the girls' roles this year as well as in the past. She loved identifying each charm and bead." - A happy Grandma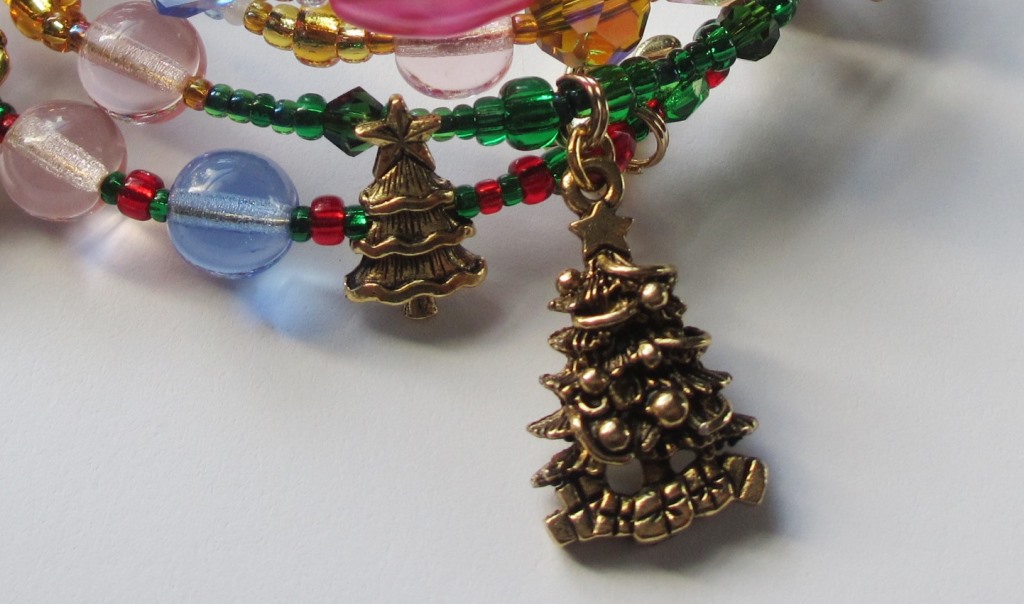 Huge menacing mice appear, with their Mouse King (crown and mouse beads).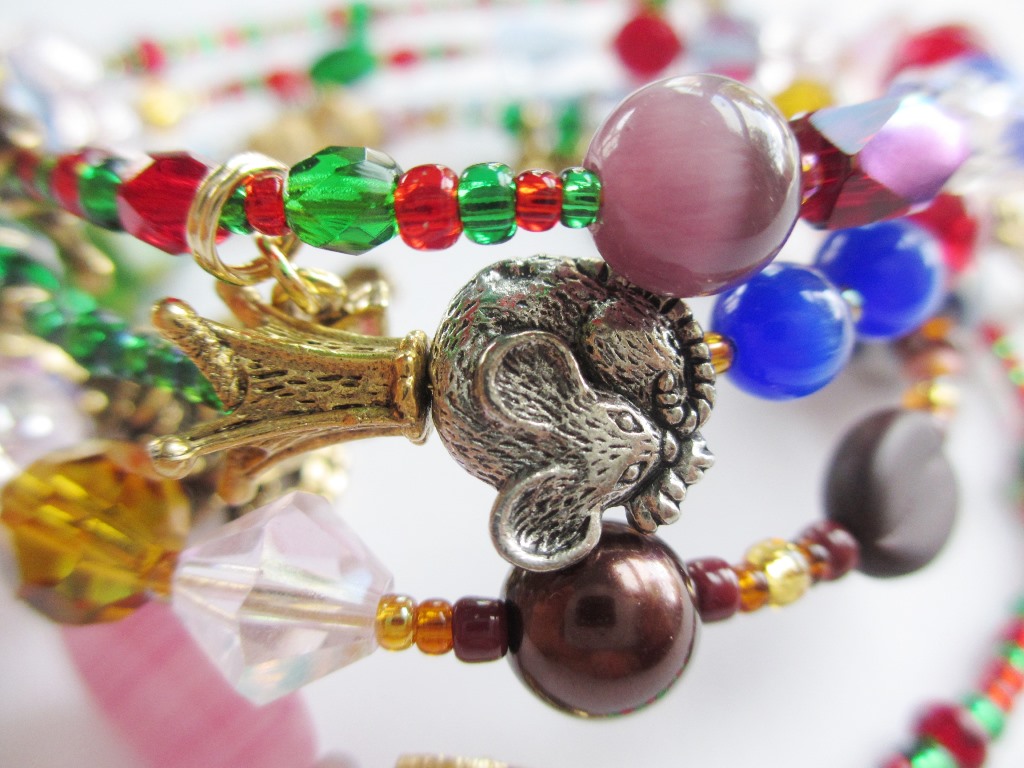 Clara throws her slipper to distract the Mouse King - Allowing the Nutcracker to strike a fatal blow! The Nutcracker is transformed into a Prince! A slipper charm symbolizes the crucial moment. A gold crystal is the now transformed Nutcracker Prince.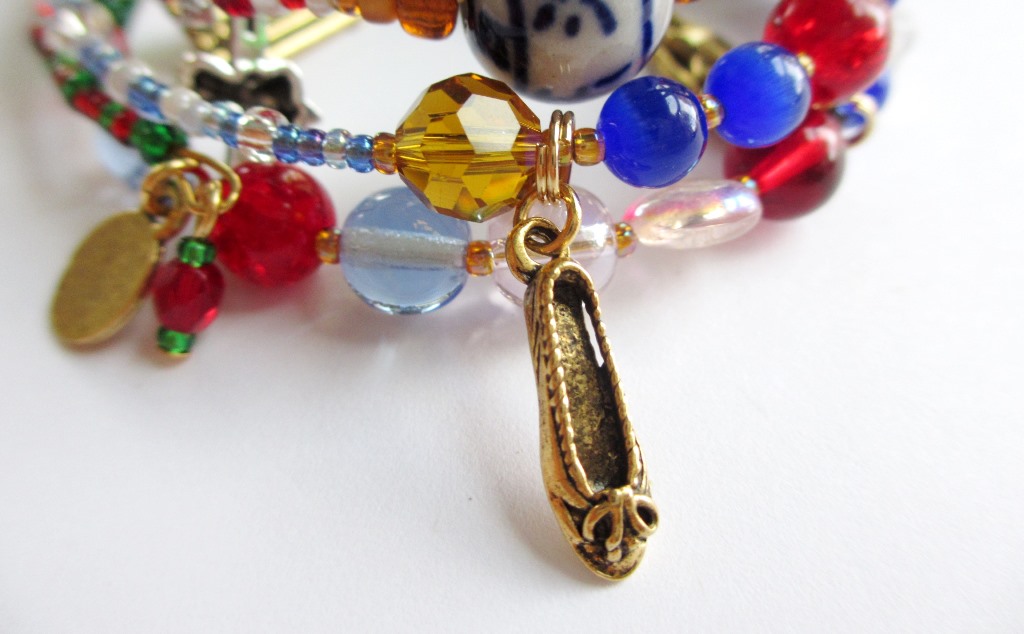 They travel through a forest of dancing snowflakes! Light blue and white beads with crystals and a snowflake bead indicate the beauty of the Waltz of the Snowflakes.
The Best - "I love this bracelet! Perfect time of year to wear it, especially when I go see the Nutcracker next week! Colors work with anything you wear and fit is great - I have small wrists and it fits, unlike a lot of bracelets."

The Prince brings Clara to his Kingdom of Sweets. The Sugar Plum Fairy is a Pink Crystal.

Beads and charms symbolize the famous Nutcracker Suite: Spanish Chocolate (chocolate glass pearl) and Arabian Coffee (glass coffee bean)

Chinese Tea (Bead with Chinese letters)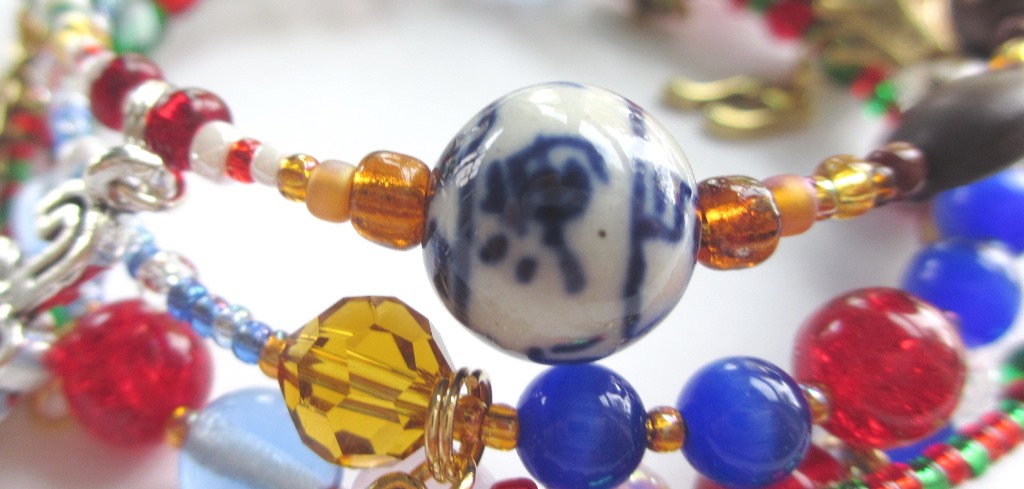 Russian Dance (candy cane) and Toy Flutes (flute charm)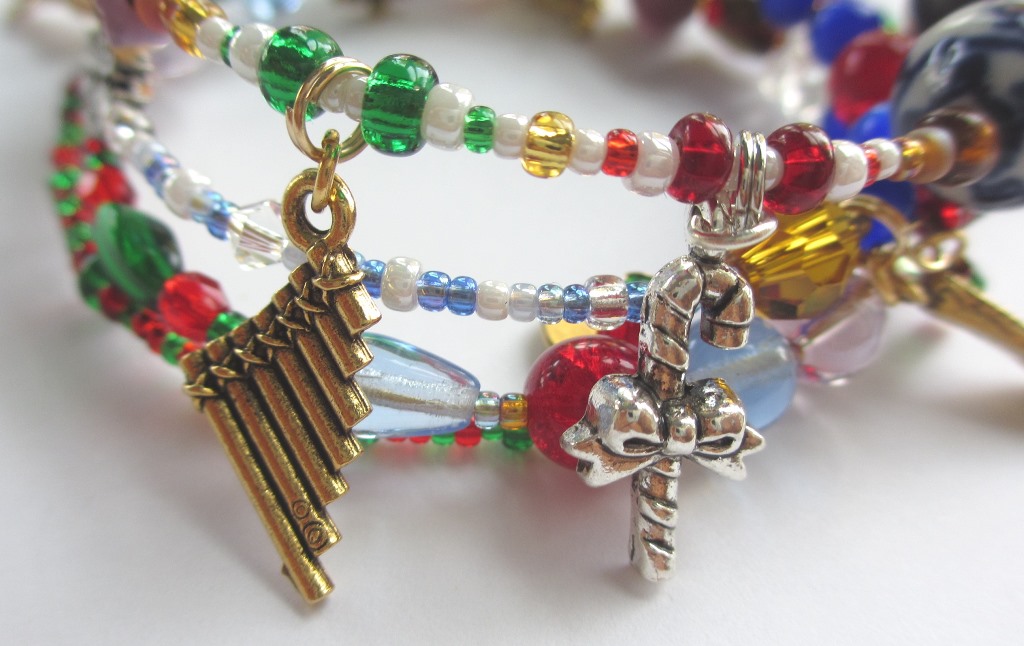 Mother Ginger (gingerbread woman)

The Waltz of the Flowers is a Millifiore bead (flowered square- colors vary). The Sugar Plum Fairy and her cavalier (blue crystal) dance together (ballet charm).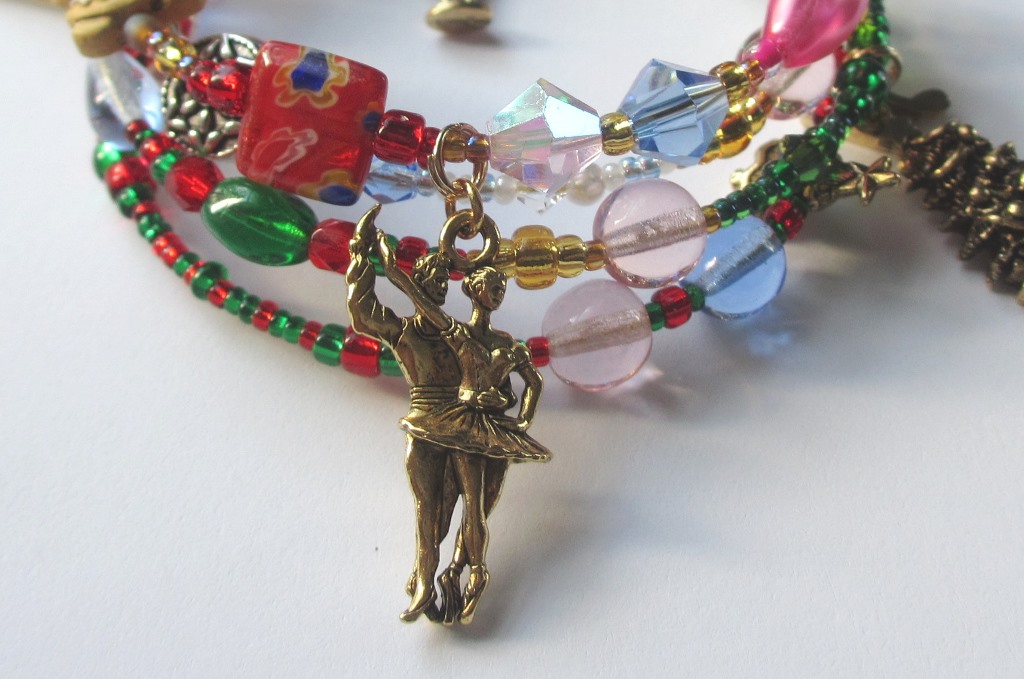 The evening concludes with a beautiful waltz (Pink Swirl bead). As the sparkling night fades away, the dawn breaks on a magical Christmas morning, symbolized by a sunburst bead (at right).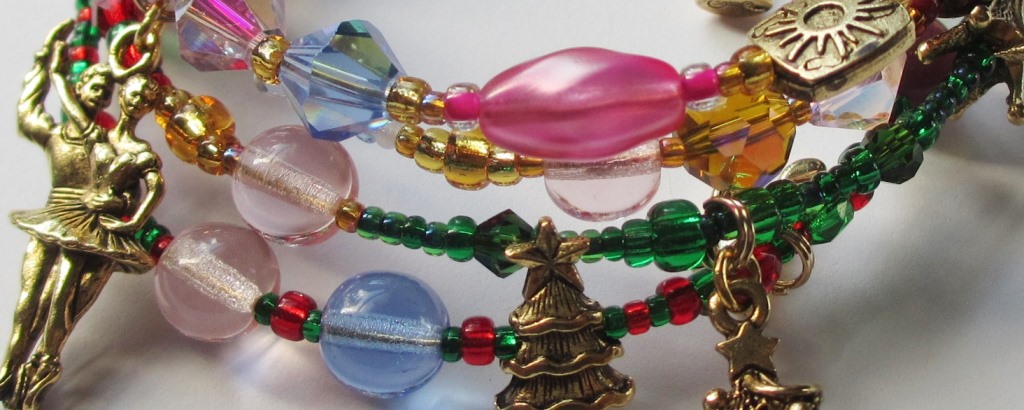 Christmas present in loving memory - "Since losing my husband, I've had very little desire for Christmas presents, only buying things for the little ones in my family. We loved buying Christmas gifts for each other and these were often from a Dear Santa note, often attached to a catalog marked with items we desired or felt we needed. There would also be surprise ones that we thought the other would like. When I saw the Nutcracker bracelet, I just knew it was meant to be my present from Santa. Darryl loved listening to the Saturday afternoon at the Met opera on the radio while he worked out in his garage woodworking shop. The Nutcracker was a favorite for both of us. Over the years we went to Nutcracker performances many times and also enjoyed watching them on television or sitting together during the holiday season listing to a CD over cookies, cocoa or wine. When I told a friend about buying it for myself, she said "You may think you bought it for yourself, but I know that he bought it for you." - Ginny