A couple of weeks ago someone asked: Why do you use Chinese Beads?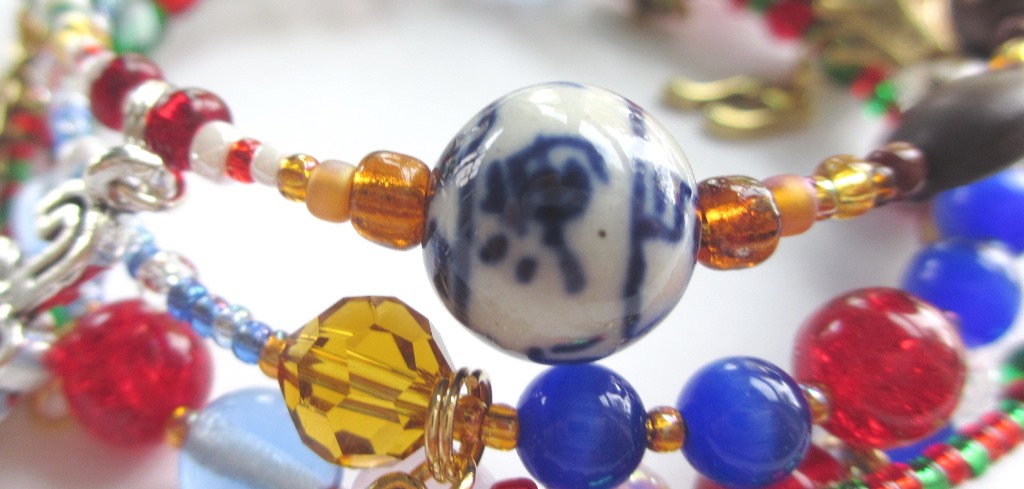 Let's start with the wider question: Why don't I use beads that are "Made in USA". Around 90% of the beads I use are Czech and Austrian; these countries have been leaders in the glass and crystal bead industry for over 200 years.
Most "Made in USA" glass beads that I have found are very beautiful and ornate, however they are generally too large for use in most of my bracelets.
When I win the Mega Millions I hope to open a U.S. bead factory to make beads similar to pressed glass Czech beads; not the least because no one could then discontinue all my favorite colors and shapes! Meanwhile, I purchase the imported beads I need from American companies.
As an aside, the pewter charms and beads I use are made at U.S. factories.
So back to China… there are a few specific reasons I, very occasionally, utilize a Chinese bead in my designs.
1.Breakage prevention. Sometimes I like to use a larger heart shaped bead for big emotional opera moments. I found that larger glass beads will (very rarely) break when shipped in frigid temperatures. As so many bracelets go out in the winter, I've switched some of these large glass beads for Chinese Cloisonné beads which are metal and unlikely to break due to temperatures. Cloisonné has been an art form in China for hundreds of years. Examples: The La Boheme Bracelet, The La Cenerentola Bracelet.
2.To represent Asian settings. I will sometimes use Chinese porcelain beads to set the scene for operas that take place in Japan or China. For example, the Royal Riddles Bracelet is inspired by the opera Turandot, which takes place in mythical China. A blue and white porcelain bead with Chinese lettering gives the bracelet Chinese flavor. This same kind of bead represents Chinese tea on the Nutcracker Ballet Bracelet. The bead used to represent the country of Japan on the Madama Butterfly Braceletet is actually Chinese but it reminds me a great deal of Japanese Sumi-e painting so I still use it (artistic license).
3.Color/shape/type. As you probably know, if you know my work, I put a great deal of thought into what the color or shapes of the beads represent in my designs. A red bead might mean love, rage, blood or wine, depending on its shade or shape. Sometimes for story reasons, I want to use a cat's eye or crackle bead. Allowing Chinese glass or crystal beads into the mix gives me more choices in the artistic process.
So that gives some insight into the beads I use – if you have further questions feel free to email me cindy@operabracelets.com