Welcome to Opera Bracelets!
Thank you for visiting our online store! We are here to help you find a meaningful gift for that special someone. Below is our updated Holiday Book, where you'll find gift ideas for fans of opera, ballet, literature and theater. Be sure to check out our Christmas collection on page 28! You can click or tap the highlighted text in the book to visit the web page in our online store for that bracelet.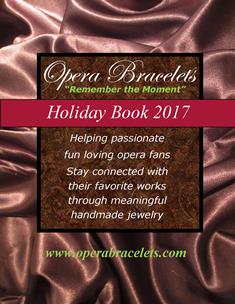 Click on the front page of the book to start browsing. Best wishes for a magical holiday season!



Such a beauty! Would make a lovely gift!

-

"A Christmas Carol has special meaning to me and Cindy's creative genius (for it can be called nothing else) embodies the lessons of the story. The bracelet arrived well packaged so no damage could come to it. Inside, the presentation was perfect! There was a lovely jewelry box with the logo embossed on it and included inside was a detailed description of each charm and its meaning. Of course, the bracelet itself is so pretty and sparkly and reminds me to keep Christmas in my heart all year long. I'm so glad I found this site and these wonderful tributes to our finest stories."

- Penny