Since Opera Bracelets started in 2010, we have had the opportunity to serve and get to know thousands of worldwide fans of opera, ballet, literature and classic Christmas works. Here are some of the words that our customers have said about Opera Bracelets, for all of which we are humbled and grateful. You can also see reviews of specific bracelets on the individual product pages.
They are absolutely divine! - I am so happy I discovered your Opera Bracelets! I have been struggling to find an appropriate gift for my 83 yr old Mom, who can be very hard to please, but loves the opera! She's been a staunch supporter of the LA Opera ,here in Los Angeles, for years and had season tickets until debilitating brain hemorrhages left her physically incapacitated over the past 2 yrs.
Myself and my siblings (there are 7 of us) have been exposed to beautiful music of all types since we were young. Some of us have fallen in love with the opera because of my Mom. So you see , these bracelets are magical! Thanks again for such lovely work! - Claire (Aida Opera Bracelet)
I am in love! - I received my Die Fledermaus and Sugar Plum Fairy Bracelets today! Thank you SO much for taking such care in sealing up the package. It, as well as all of the contents, arrived perfectly!
These are two of the most gorgeous bracelets that I have ever seen! I got tears in my eyes when I opened each box, which by the way, are packaged beautifully and I very much enjoy the description cards. I have to tell you that, honestly, I was shaking with joy/in awe as I was trying each of them on for the first time! Words cannot truly describe how glorious these bracelets are in person!
Thank you for your talent and gifted imagination in designing these most amazing accessories! - Susan
Queen of the Night Bracelet for a Queen of the Night - Our daughter is performing with the St Petersburg Opera Company in Die Zaubeflote as The Queen of the Night. This is was the first role she sang in college, and has become her signature role. We are so excited for her and are traveling to see her opening night performance. We wanted something special to commemorate this event in her life and when I saw this bracelet I knew I had found it! Cannot wait to present it to her after opening night! Thank you for the work and detail! - Terri
Perfection! - I wore this lovely bracelet when I went to dinner with a dear friend. I explained it to her, what the charms represented, and she was just as enamored as I have been! She took down the website link so she could shop for herself and the other musical women on his Christmas list. I am absolutely fascinated by the concept of your work and so tickled to have some of it to wear and share! The workmanship is terrific and the packaging w/explanation of the charms is a great touch! Well done! - Penny (Queen of the Night Bracelet inspired by The Magic Flute)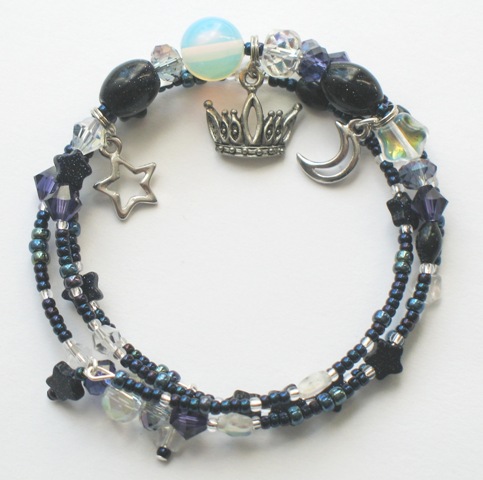 Used to dislike bracelets! - I have very small wrists and have shied away from bracelets in the past; they just seemed to roll around too much. I became intrigued with the "wrap-aroundedness" of the Opera Bracelet and how it highlighted the various beads and charms while staying in one place. Now that I own a Carmen opera bracelet, it didn't disappoint and I've received ever so many compliments! I already have my eye on several more of Cindy's designs that cleverly tell the story of my favorite operas. - Bonnie

No clasp to fool with! - I bought this beautiful bracelet for my wife and she loves it! Not only does it have a versatile color palette, but it also just wraps around her wrist. It is probably the first of several we will buy. - Craig (Carmen Opera Bracelet)
More than Beautiful - I was thrilled to receive this bracelet. The colors are more intense than in the photo, and it's comfortable to wear. Your personal message in the package, and the warm "gift" that was included, made me understand how much you wish to connect with your customers--so much nicer than just a packing receipt! Many thanks to you for this lovely work of art. - Heidi (Lucia's Love inspired by Lucia di Lammermoor)
Wonderful - I'm so excited about this Amahl bracelet! It is beautiful crafted. This is my favorite opera and I have sung in it numerous times. I will enjoy wearing this often as it will cause me to sing beautiful arias from this gem of Menotti's! Love it! Thank you, thank you, thank you kindly! - Denise (Amahl and the Night Visitors Bracelet)


Details are everything! - Tosca is my all-time favorite opera so, as a special gift to myself, I decided to indulge in an opera bracelet. I was happy to see the Tosca bracelets offered as a gift set because, ultimately, I could not have made up my mind which individual one to purchase. Not only are the bracelets lovely to see and wear, the level of craftsmanship and the attention to detail far exceeded my expectations! I especially enjoyed the information sheet that explained each of the elements. The beautiful packaging would make this a splendid gift, or simply a special treat for yourself! Cindy was easy to communicate with and shipping was super fast. I look forward to future purchases and hopefully a custom bracelet to add to my collection. - Debi (Tosca Gift Set)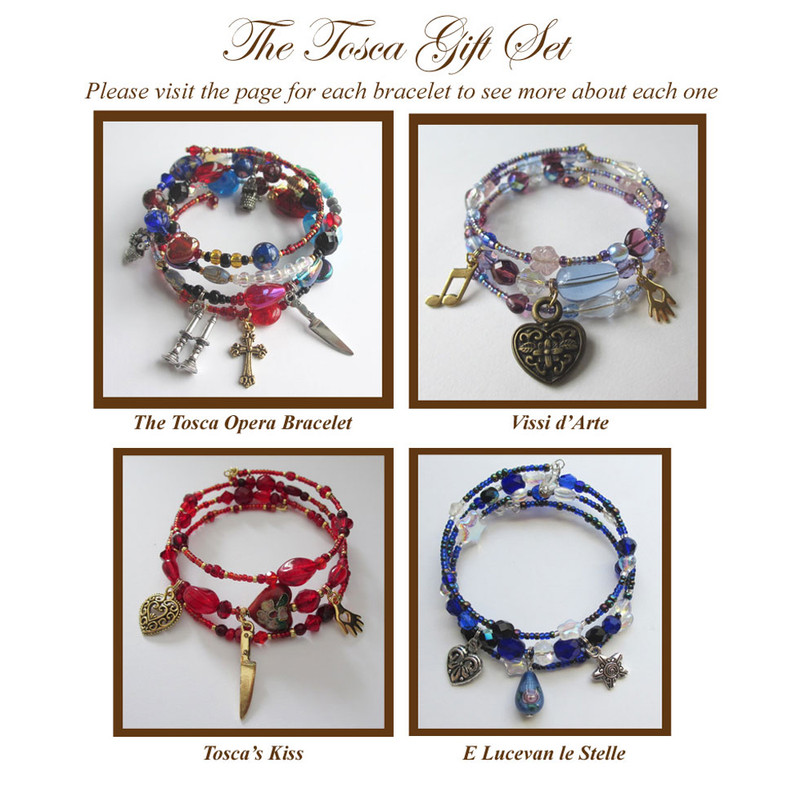 Love your product! - My daughter is a vocal performance major at LSU and I have gotten a bracelet from you for every opera she has performed. Her next opera is she will be doing is Cunning Little Vixen. I have ordered it and can't wait for it to come in. - Sheila (Cunning Little Vixen Bracelet)
A beautiful bracelet! - I gifted this to a friend recently, mainly because the colors were so her. This is her review: It is really so pretty.. I loved reading about the colors of the stones being those of the fox, the little frog representing the cycle of life, the lovely little vixen and the heart with the vixen's paw prints on it representing love. I really was moved. I wore it to an event where all there are involved in the [Adelaide] Opera, so it really was apt and very much admired. - Robin
Glittering Symphony - I have now purchased a second Overture bracelet; one for me and one as a present. They are beautifully created that you customize with the instrument (violin for me) of your choice. i enjoy how easy it is to put on your wrist as well as removal. It is very light weight and I have even worn it while playing a concert. The colors work beautifully with the formal concert apparel and it looks very elegant. - Irene
Stunning bracelet - I love everything about this bracelet - it is both beautiful and elegant. You can wear it with your jeans or give a little bling to a date night look. My mother and I share the same birthday and I had ordered one for myself and enjoyed it so much I got one for her birthday too. My sister's wedding is coming up and this will be a great gift to make her just stunning. - Leslie (Overture by Byoonique Bracelet)
They are fabulous! - Thank you for creating these beautiful bracelets! I am a huge Wizard of Oz fan, so the bracelet was a must have. I bought The Good Witch for my goddaughter because we have shared many hours watching the movie while reading the movie script. Last year, I gave she and her mother tickets to The Phantom of the Opera so I am giving the mother the Phantom Bracelet. I love the personal touch with the note, candy, biscoff and my favorite tea. Thank you so much! I'm sure I'll be back for more at some point. - Sharon
What wonderful service! - Ordered my bracelet on Tuesday, and it arrived today (Friday). Beautiful packaging, a personal note, a sweet treat, and my GORGEOUS bracelet!! Brava Opera Bracelets, well done! - Amanda (Vissi d'arte Bracelet inspired by Tosca)
A Superfan's perfect gift - This bracelet is a gorgeous addition to anyone's collection. My daughter, a Les Miz superfan, absolutely loves this bracelet. It's made well and is very unique. Wonderful service and love the tea and treats. Such a great touch. I would certainly purchase from you again. Thanks so much. - Joan (Valjean's Transformation Bracelet inspired by Les Miserables)
It is perfect! - I purchased the Swan Lake Ballet bracelet for my granddaughter who dances with the Maryland Ballet Company in Annapolis, MD. I will be taking it to her as a gift following her performance. I am sure she will treasure it and associate it with fond memories of her days with the Maryland Ballet Company in years to come. Your attention to details and customer service are commendable. Thank you! – Grandma Ginger (The Swan Lake Ballet Bracelet)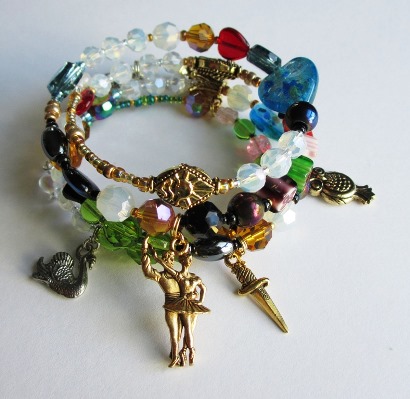 Surpassed my expectations! - My Barcarolle bracelet is beautifully crafted and brings to mind the opera it represents. I love to wear it...I love to look at it. I have purchased three opera bracelets and look forward to adding to my collection. - Kathleen (The Barcarolle Bracelet inspired by Tales of Hoffman)
Unique and so meaningful - Thank you for the beautiful Eugene Onegin bracelet that I received this week! And the little "treats" you tucked in with the package were an added surprise. I would recommend these as gifts for any opera lover! - Deb (Eugene Onegin Opera Bracelet)
"Hi Cindy! My order arrived yesterday and I'm so thrilled. Every bracelet is beautiful. The beads and charms are amazingly well suited to each of the moments that the bracelets are connected to in the Ring Cycle. What a great way for me to remember those keys and to bring me back to the story. Thank you thank you. And thanks to Wagner for thinking this through! Best wishes! Karen" (Ring Cycle Inspired By... series bracelets)
These 2 testimonials are from customers who ordered special custom bracelets. Click here to learn more about special orders.
I loved the purchasing experience - I had a custom bracelet based on my wishes. Opera Bracelets created just what I asked for and sent the item in a beautiful box with a "narration on the bracelet. This is such a fun gift for the opera singer in your life! - Juliana
Cindy was amazing to work with! - I contacted Opera Bracelets about making a Mary Poppins bracelet for my daughter who is playing Mary Poppins in her high school musical. She kept in contact with me through every step of the process, finding just the right charms and choosing the colors. Throughout the entire process, she was extremely helpful. The bracelet is beautiful and unique and I know it will be a very special keepsake for my daughter. I can't wait to give it to her on opening night. I highly recommend Opera Bracelets to anyone looking for a special keepsake! - Suellen