It's easy to get overtaken by all the holiday preparations. I do a lot of holiday baking, shopping, wrapping, decorating. It starts fun, but can get overwhelming - not to mention business wise it's the busiest time of the year.
The whole season can fly by without warning so I made a point recently to take a moment with some tea and well...
I've wanted for a while to make something like Starbucks's Cranberry Bliss bars. Just for nibbling on, not to save for the big cookie tins we give everyone.
The recipe I used is based on a go to bar cookie recipe from Better Homes and Garden's Cookie Book called "Toffee Squares". I thought: how can I make these more Christmasy? So, I added orange flavoring and cinnamon to the basic dough.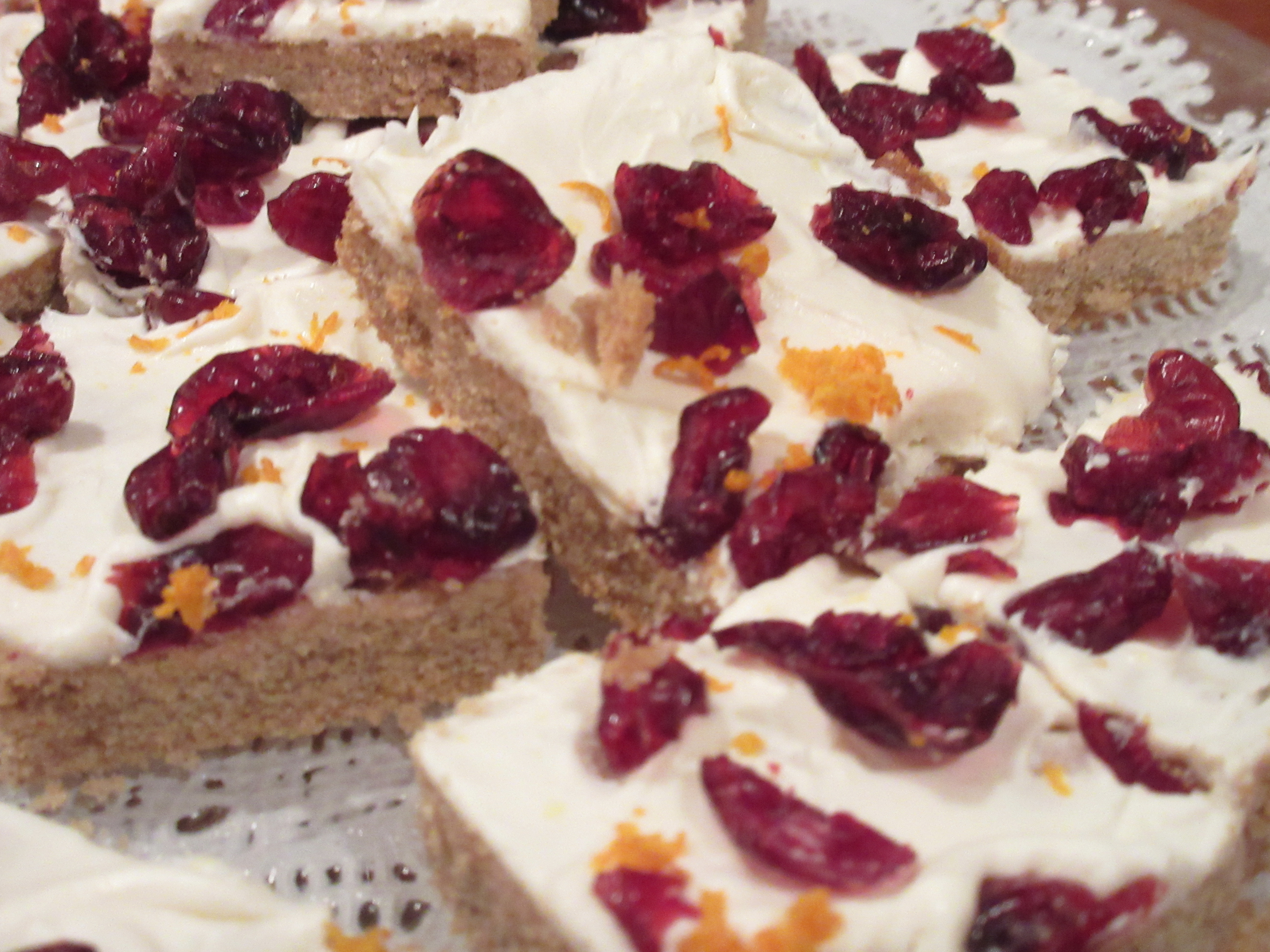 So grab some tea or hot cocoa and put on the Christmas music (Click here for my Youtube play list of opera and classical Christmas Music). Making these is really quite simple.
Cindy's Cranberry Bars
1 cup butter softened (leave it out the night before or zap on low power in the microwave)
1 cup packed brown sugar
1 egg
1-2 teaspoons orange extract
1-2 teaspoons cinnamon
2 cups flour
1/4 teaspoon salt
Vanilla frosting (hey we're taking a moment in the rushed holidays - you bet I used a can)
Craisins

Orange zest - fresh or dried
Preheat oven to 350 degrees F. Cream butter with an electric mixer. Add the brown sugar, egg, cinnamon and orange extract. Beat until combined, scraping sides of bowl. Beat in flour and salt until combined.
Pat dough evenly into a greased 13x9x2-inch baking pan. Bake for about 15-20 minutes or until edges begin to brown and surface is dry. Don't over bake or they will be a bit dry.
Let cool completely. Frost with white frosting, Take a minute to separate the cranberries- they tend to get stuck together in little clumps when in the bag. Sprinkle them over the frosting and then sprinkle on orange zest.
Cut into squares or rectangles.
If you don't want to go with orange, you can use slivered or sliced almonds and substitute almond extract for the orange extract.
For my "healthier version" substitute:
1/2 cup Splenda brown sugar baking blend for the sugar
Brown or white whole wheat flour - just let the dough sit for about 20 minutes as whole wheat flours take time to absorb the liquids in a recipe to bake nicely.
50% less Sugar Crasins
Join me in taking a moment...