The time had finally come around to create the Fanciulla del West (Girl of the Golden West) Bracelet. I'd been looking forward to this for a long time. There are SO many great western charms available. But I don't like to just fill a bracelet with charms, they have to be integral to the plot, and I don't like to use too many: between 5-7 is best. So horses? Cowboy hats? cowboy boots? Spurs? All cute but they just didn't seem to quite "go".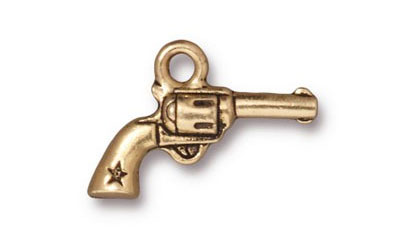 My mind however, latched onto this intense moment at the end of the opera when Minnie is so desperate to save Dick that she threatens to kill herself and Dick with the same shot. This little gun charm seemed appropriate for the scene which is a vital moment. But, something made me check with my Facebook Page friends (Click here and Like to join us on Facebook). I'm not sure why I even thought to ask. Opera is violent, there are lots of daggers and swords of different shapes and plenty of beads representing blood and death on my bracelets.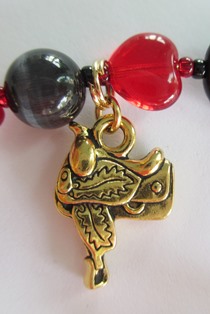 So, would a gun charm put people off buying the bracelet? Most said it was appropriate to the plot, a couple felt it would make them hesitate, what with all the gun violence in the media these days. In the end I ended up feeling the moment could be represented a different way. Now, an oval gunmetal bead represents both the moment Dick is shot in act 2 and Minnie's moment in Act 3. (Same bead indicated Lensky's death by shooting in Eugene Onegin)
Not using the gun gave me space to give a Western touch to the bracelet with a cute saddle charm evoking Johnson's haughty entrance slinging down his saddle- he's just too cool for cool isn't he?
Check out the final product here- be sure to visit the "About the Beads" section for detailed explanations of the beads and charms chosen to tell the story of Puccini's Spaghetti Western.
Click to see more about the La Fanciulla del West Opera Bracelet