Taking a trip to visit the Met Opera Shop this fall was an exhilarating and humbling experience.
Of course, going to the home of opera (in my mind anyway- I've been hearing Met Opera Saturday broadcasts since I was a child) is exciting under any circumstance.
The fountains, the arches, the sputnik chandeliers, the little park, the café with cappuccino and opera cake, the red velvet and gold leaf décor, it's all real and it's all there: like in Moonstruck, like in the Ebn Ozn song, like on Great Performances on PBS, like you see Live in HD.
But this trip had a special exhilaration because the Met Shop decided to carry a number of my designs this year, bracelets from my collection that represent many of their productions. To be standing in the same spot where I first had the idea for Opera Bracelets and know that it had all come gloriously full circle was magical.
But humbling.My work is not inside the special glass cases. It is not featured in the lovely display cubbies on the right hand side of the shop. It is in fact on a minor rack with other bracelets with lots of other surrounding items and an additional bowl (yes a bowl) full of my bracelets.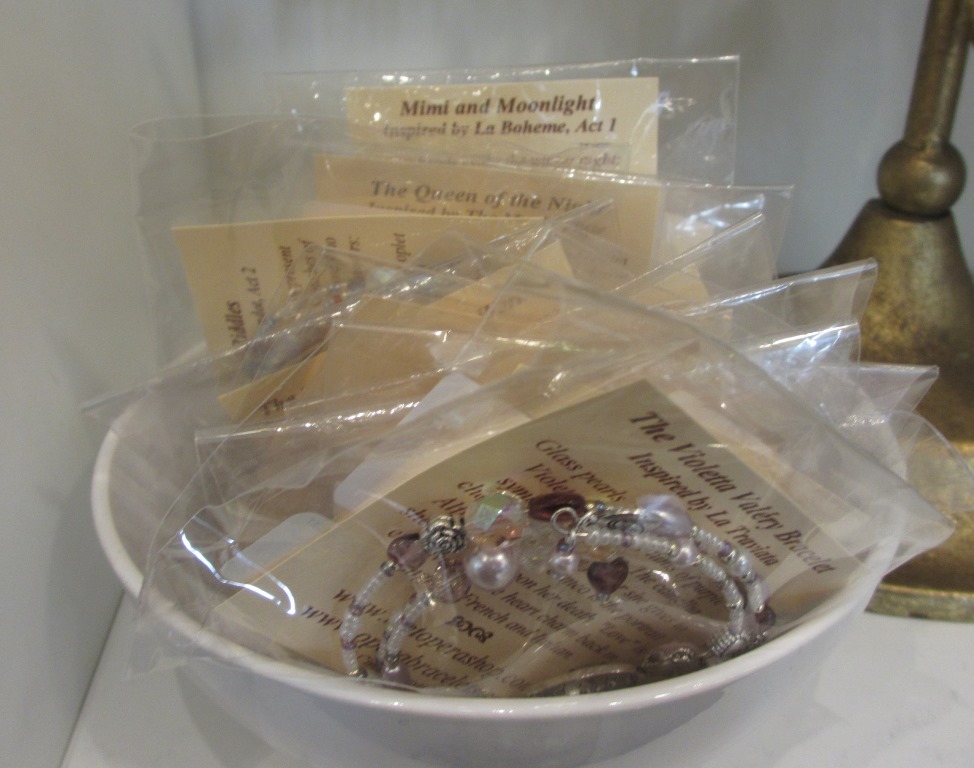 I get it … It's not like my bracelets are made out of precious gemstones and metals. Opera Bracelets are for lovers of opera who are passionate but not necessarily able to spend hundreds of dollars on a piece of jewelry- like many of those beautiful pieces in the glass cases. Therefore, my work is out where people pretty much need to "find it" among all the other beautiful things.
But, here's the thing. The Met Opera Shop can get very busy. Intermission, pre and post show times are almost chaotic and they get many visitors and groups stopping by, even on a random weekday morning. The fantastic staff can simply not get to every person who may have a question or wants something out of a case.
My bracelets are right out there where my potential customers can look at them up close and read the descriptive card to understand how the bracelet represents the opera, aria or character. So, I get to interact "directly" with those opera people in a way that wouldn't happen if my bracelets were in a display case.
So, while the ego wants to be some super designer with their stuff in an impressive display, I have a feeling that the bowl method just might work better.
There's a lesson for life there someplace!